Lawn Care Services – Westminster, CO
Westminster, CO is one of the best communities and Organo-Lawn has been providing organic lawn care services in this community since 2010. Since then we have been the only lawn care company offering pet safe weed controls and Westminster is a community that is fully committed to using natural weed killers for lawns. Organo-Lawn is committed to the environment and our lawn care customers help make Westminster, CO one of the most environmentally friendly towns in the Front Range. We are happy provide professional lawn care services for the environmentally friendly people of Westminster, CO.
Westminster is a town that is dedicated to its urban forest. Westminster, CO has about 150 miles of trails surrounded by beautiful trees. Most of these trails run through open space with great views and wildlife. There are 5 regional trails including Big Dry Creek Trail, Little Dry Creek Trail, Farmers' High Line Canal Trail, U.S. 36 Bikeway, and the Rocky Mountain Greenway Trail. We offer organic lawn care services and expert tree care services for the lovely people of Westminster, CO.
Deep Root Tree Fertilization in Westminster, CO
A community with a lot of urban trees like Westminster CO, opens itself to the possibility of having issues with their trees. Be it insect pressure or abiotic conditions like chlorosis Organo-Lawn is the professional tree care company to call first. Many trees that are planted in Colorado are not native to our climate and therefore, they struggle to stay healthy without assistance. One of the biggest challenges for these urban trees is being planted in a "dead" soil which is soil not teeming with microbes. The best way to help these trees is to use 100% organic deep root tree fertilization with Mycorrhiza. The Mycorrhiza helps trees survive stressful environments, by helping it grow stronger roots and keep them from absorbing pollution. Keeping the trees in Westminster, CO healthy and even thriving!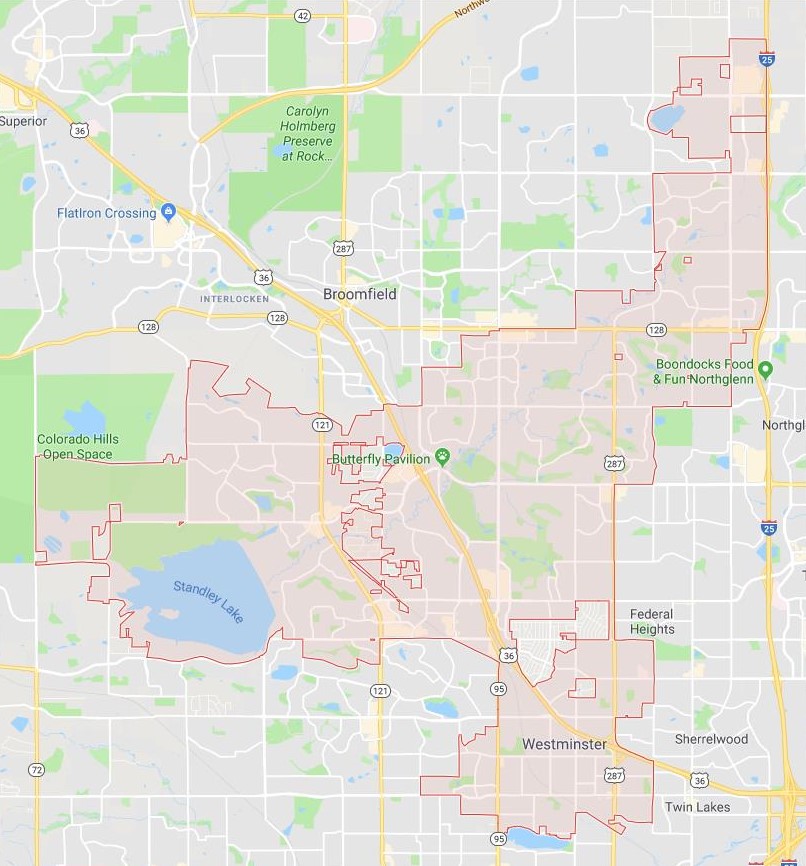 Westminster, Colorado

We love driving through the tree lined streets of Westminster, CO and are dedicated to providing 100% organic weed control services, along with many other services. Below are just a few of the areas in Westminster we service:
East Central Westminster
Kings Mill
North Central Westminster
Walnut Grove
David came by today for a sprinkler audit. We recently purchased the house so knew nothing about how to program the timer. He was excellent. Very thorough and explained it so I could easily understand. I appreciate the detailed notes he made for future reference. Just a super nice person who knows what he is doing.
FAQ – Colorado Lawn Care
When is the best time have a sprinkler system blown out in Westminster, Colorado?
Colorado weather is unpredictable. Some years we can have snows in September and other years it stay warm until Thanksgiving. We recommend having the sprinkler system winterized prior to the first hard freeze. Since we cannot predict when that is going to be, we recommend having your system winterized sometime between the last week of September and the end of October. Our schedule fills up quickly so the sooner you call the more dates we will have available for you to choose from.
Everyone has a very busy schedule and we have found it is often more convenient for the homeowner to drain their own basement pipe. This can be done either before or after we perform the sprinkler blowout service. To watch a video on how to self drain the basement pipe click this link.
Sometimes unexpected cold weather can cause a panic when it comes to people worrying about their sprinkler system freezing. In case there is a sudden freeze and we are unable to make it out to blowout your sprinklers before this occurs, you can protect your sprinkler system by draining your basement pipe and draining the vacuum breaker. This can be done before a sudden freeze to prevent damage to the sprinkler system. To watch a video on how to protect your sprinkler system before a sudden freeze please click this link.