Interesting Facts
Oxalis is commonly used as an ornamental foliage for rock areas or gardens. But it is generally considered a weed when found in the lawn.
Oxalis is edible and high in Vitamin C. However, if eaten in large quantities, it can be toxic because it contains oxalic acid.
The leaves are poisonous to pets, but because they have a bitter taste, most animals will stay away, so it's not of too much concern.
This plant is also known as woodsorrel. There are several hundred species of oxalis. The green small-leafed oxalis is the most common in North America. This would include both creeping woodsorrel and common woodsorrel (pictured below).
Ideal Conditions for Weed Growth
Creeping woodsorrel (oxalis corniculata) will grow more along the ground as a ground cover. Common woodsorrel (oxalis stricta) will grow in more of an upright clump shape. Both have small yellow flowers. When found in the lawn, oxalis will typically only grow in nutrient deficient soils. This plant is tolerant of a wide range of conditions, but will grow best in moist soil that is partially shaded.
How to Control Oxalis
When growing in the lawn, the best thing you can do is to correct cultural practices, such as proper watering, mowing height, and proper feeding.
This weed will germinate later than some so it moves in after other weeds have been killed off by spring weed controls. If there is no room for this weed to move in it typically will not grow. By following those three practices the lawn will be thick, tall, and able to out compete many weeds trying to take over.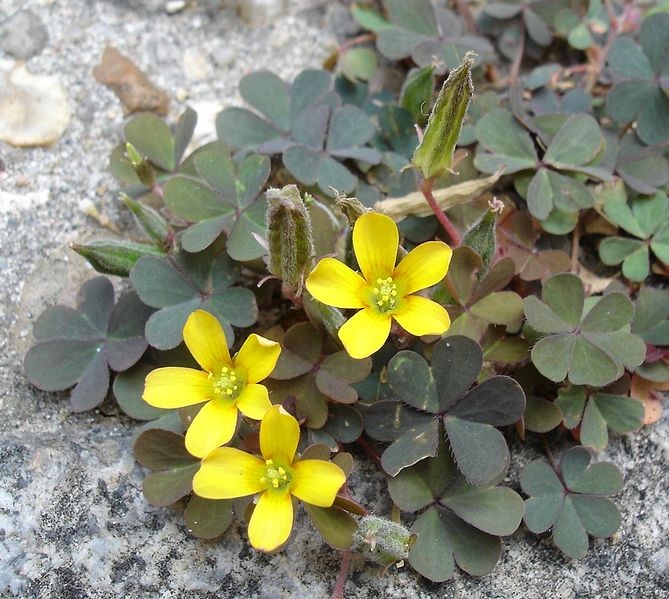 The above photo is of oxalis corniculata or creeping woodsorrel.
Results with Weed Control
If you want the weed gone now, we have seen good results with our organic One Earth weed control, by using back to back applications, about one week apart. This weed control is used in lawns, and is also an organic fertilizer. After the second application you should see the weeds turn brown or black and break down.
We also offer an organic weed control for non-turf areas called Avenger; this will work on young weeds that are under 6 inches tall. Avenger works by dehydrating the plant, breaking down the plant's waxy coating that holds in moisture. You should start to see the weed die off about 48 hours after this application.
Is this Oxalis?
Most of the time when people see oxalis, they think that it is clover. Oxalis will have more of a heart shaped leaf, where the clover has a round-tip leaf. Below is a photo of white clover, you can see the difference in flowers as well as leaf shape.